Name: Girdhari Lal
Stall Name: Naaz Food
City: Vaishali, Ghaziabad
Year of Activity: 18 Years
Food for Festival: Chicken Korma, Afghani Tikka, Afghani Tangdi, Tandoori Tangdi, Tandoori Tikka, Chicken Kabab, Mutton Kabab, Chicken Lollipop, Rumali Roti, Soya Veg Chicken, Soya Veg Chopstick and Soya Veg Shami.
Girdhari Lal, 53 year Old street food vendor started his carrier as small property dealer but 20 years ago there came a twist in his carrier. He met Mr Hazi Aaftab of Nazeer, the famous non veg food chain in dramatic way, Mr Haji had left his valet full of important documents and cash. Girdhari lal found that. Girdhari took the valet and opened it to find out its owner and he went to return back . Mr.Hazi was so touched by his honesty that he offered him to work with him. Girdhari preferred to be self employed and agreed to sale Mutton seekh kabab and chicken seekh Kabab of Nazeer by frying at his stall. With that he slowly started experimenting his own culinary skill and was successful in doing so. He puts his stall at sector 3 Vaishali near Metro Mall. He has a regular customer, there are hundreds of customer who not only come to eat but get it packed. His delicacies include chicken korma,tangri kabab, Afgani Tikka,Chicken lolly pop and fish Tikka.
He lives in Shahadra where our Thrift and credit cooperative SANCHAY team member came in contact with him to assist him financially. He was sent for NASVI's SKILL CERTIFICATION PROGRAM to Lajpat Nagar SIHM, with his extraordinary culinary skill chef of hotel Taj who had come to assess them for certification first gave him grade A, as he forgot to taste his lollypop after tasting that he tore off the certificate and gave him a new one with grade A +.
Impressed by his skill, principal of SIHM, Mr.Ravi Prakash invited him to put his stall on 27th September on occasion of World tourism Day, he has been invited by Mr.Ravi Prakash to serve on the occasion of his daughter's engagement ceremony.Hope he will satisfy the peerless taste buds of Delhi buddies.
Name: Dalchand
Tikki-chaat maker,Golgappa and Aloo Tikki.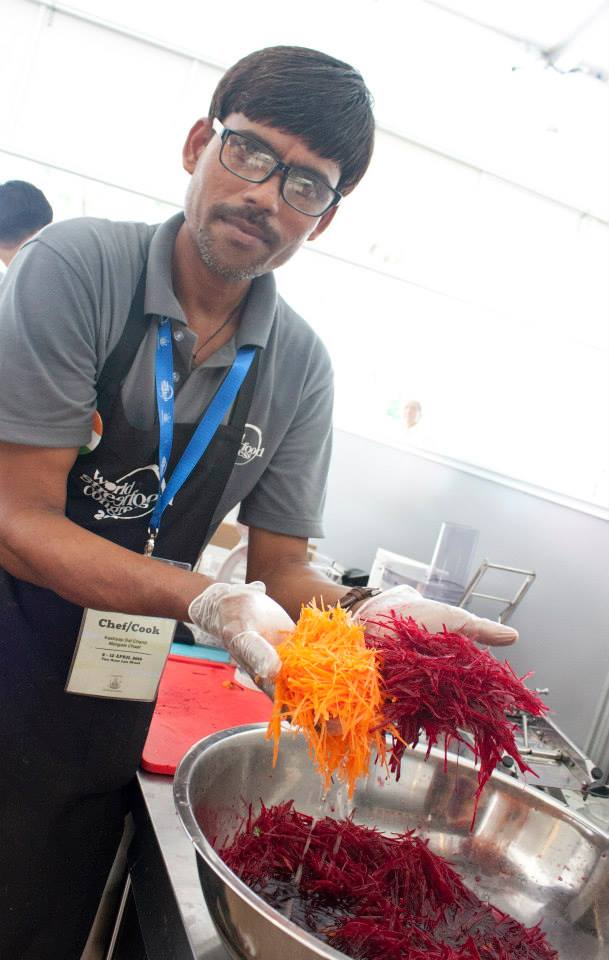 Name: Satish Kumar Shankar
Stall Name: Bhola Shankar Kachori Wale
City: Chota Bazar near Civil Hospital, Shahdara, Delhi
Year of Activity: 57 Years
Food for Festival: Kachori with fruit chutney
" Bhola Shankar Kachori " from the Chota Bazar opposite to Civil Hospital at Shahdara in New Delhi. This was started by Late Shri Bhola Shankar in 1960. When Bhola Shankar Ji started the stall at that time the Chutney was simple as few special ingredients like Cashew and Almonds were not there and the rate per plate chaat costed only 15 paisa.
Bhola Shankar, is a One Man Army, he never took anyone's help to setup the Chaat Stall. The Elder Son (Satish Kumar) is running the Stall presently. When Satish Kumar joined the stall, the buisiness got sudden hike.
And then Satish introduced the fruit chutney infused with almonds and cashews. Today , the Bhola Shankar Chaat is very famous in the whole East Delhi, and is always lined up with the Customers, and it's rate per plate is 30 rupees presently. Now, the business is very successful and well known in the East Delhi.
Name: Jaswant Singh
Stall Name: Rinku Ji Ki Rehri
City: Ludhiana, Punjab
Years of Activity: 20 Years
Food for Festival: Sarson Ka Saag, Makki Ki Roti, Gud and Lassi
Jaswant Singh is 49 years old and nowadays his tasty, soft and crispy Makki ki Roti really famous in Ghanta Ghar (Clock Tower), Ludhiana. He has been running his stall for the past 26 years. He is an orphan and since childhood he worked in a food stall. He has only his left hand since he lost his right hand when he was 12 years old in a bus accident. When he was 22 years old he had the opportunity to put himself on his own. At that time he was desperately looking everywhere for a job but without results. No one gave me a job. Luckily a wealthy man helped him. At the time I used to go regularly to Hanuman temple where I became friend with Bau Ji. He gave me 10,000 rupees to buy my cart. So, Jaswant started his own stall selling Makki ki Roti, Sarson ka Saag, Gud(Jaggery) and Lassi. At the beginning I was selling 10 rupees to the plate but now I sell 40 at rupees. People know me and they like my food. The secret of his success life in 20 years of experience, a supportive wife, a strong capacity to observe the work of other seller, the faith in Waheguru and last but not least the "use of branded butter no matter how much it costs." Everyone in the surroundings appreciate him for the way he keeps the place clean. Even municipal authorities like the way he is working at the point that does not charge him because of the way he is working.
Name: Devi Prasad
Stall Name: Puja Chicken Corner
City: Bihar
Year of Activity: 30 Years
Food for Festival: Litti Chicken and Tawa Fry

Puja Chicken Corner is located in Karkarbagh neighbourhood in Patna (Bihar). In this corner, Devi Prasad has been running his stall for the last 30 years, delighting foodies with mouth watering Chicken Litti, Mutton Goli, Andha Chock. He learned everything from his brother that opened the stall 36 years ago. My brother runned away from home to go in Mumbai. After some years he came back to Patna and I started working with him. Since my brother's death I am running the stall. After his brother passed away, Devi decided to introduce Chicken Litti, the innovation that made him a kind of living legend. No one Knew Chicken Litti and Everyone used to make Gravy Chicken also my brother. Litti chokha was common but no Chicken Litti. Everyday before starting is vending activity (from 3 p.m.-10 p.m.), Devi performs Puja at his stall and make sure that everything is clean. Customers visit him also to bit his delicious Andda Chokha.

Name: Panchu Gopal
Stall Name: Amra Solah Bengali
City: Kolkata, West Bengal
Year of Activity: 20 Years
Food for Festival: Paturi, Finger Fish, Fish Kalia
55 years old Panchu Gopal has been preparing his delicious dishes for the past 30 years. Approaching his small stall in Old Street Baruipur you will be surrounded by the smell of Fish roast, Fried fish, Fish Pulao, Bhaat, Paturi and Fish Fingers. He prepares using different kind of fish. From 9 a.m. to 10 p.m. His family has been there for 4 generations. Since immemorial time they have been preparing and pass down from father to son, small and precious cooking secrets that give to their dishes that particular flavour. His presence is strongly demanded to prepare his fish delicacies in wedding parties and for Durga Puja.