Protest in (MCD office at Greek Park) to implement of the 20th February Order
Another tragedy strikes in Telangana, leaving one dead and three injured as a car runs over street vendors – are the authorities doing enough to prevent these accidents?
PROTEST BY NASVI IN PATNA AGAINST THE UNLAWFUL EVICTION OF STREET VENDORS IN PATNA NEW MARKET
Constitution of Thematic Task Forces for framing guidelines on issues of DAY-NULM
Sambad daily :Pradipt (Babula) will go to Dubai for attending world village food festival. He is the president of Maa Cuttack Chandi Roadside Food sellers Assn Cuttack. He will open a counter for selling of Dahibara Alludum: Odisha
Bhubaneswar leaders Meeting
डी पटरी के लघु व्यापारियों के मात्र एक सामूहिक संगठन लघु व्यापार एसोसिएशन के प्रांतीय अध्यक्ष संजय चोपड़ा के नेतृत्व में नगर निगम कार्यालय पहुंचकर नगर आयुक्त की अनुपस्थिति में कर अधीक्षक सुनीता सक्सेना से मिला एक प्रतिनिधिमंडल
Meeting of Market Leaders in Vijayawada on Street Vendors and Their Issues.
Empowering Street Food Vendors: SERVE SAFE FOOD Project Trains in Health and Hygiene with Nestlé Support in Coimbatore.
A series of meetings are organised by street vendors and vendor leaders to discuss harassment and evictions of street vendors carried out by the Municipal Corporation of Delhi, PWD & Delhi Police. Vendors and Vendors leaders from RK Puram, Saket, Mehrauli, Vasant Kunj, Vasant Vihar, Lado Sarai, Green Park, Moti Bagh Shashtri Market, Bhikaji Cama Place and Yusuf Sarai came together at MOTI BAGH SHASTRI MARKET to discuss these harassments and also lay importance on the NO PLASTIC AND SAVE THE EARTH CAMPAIGN.
Hassan District Branch
District Level street vendors meeting
Dr. C.E. Rangaswamy State President had invited.
District president Dilip Kumar and committee office bearers and street vendors Hassan
National foot path unduvandi pattikada thozhilali union district conference urged kozhikode muncipal corporation to issue vending licence to all eligible vendors at the earliest.
Meeting of Vasai Virar Municipal corporation chaired by Municipal commissioner Mr. Kishor Gavas.
Jalandhar: Women Day Celebration
आज दिनांक 14 /03/ 2023 को NASVI के ओर से धनबाद शहर में महिला फुटपाथ दुकानदारों के लिए एक दिवसीय कार्यशाला का आयोजन किया जिसमें पूर्व महापौर इंदु देवी और आशिनी सिंह, महिला थाना प्रभारी कुमारी विशाखा, समाजसेवी पुष्पा मेहता, विशिष्ट अतिथि के रूप में वरीय अधिवक्ता जयाकुमार मुख्य रूप से उपस्थित थे
Women Street Vendors Day Celebration: Banglore City
Women Street Vendors Day Celebration: Bhagalpur
13 मार्च दिल्ली पुलिस के खिलाफ जंतर मंतर चलो अभियान के तहत 4 मार्च को वसंत कुंज से लेकर यूसुफ सराय तक प्रचार किया जाएगा | साथियों से अनुरोध है की बड़ी संख्या में दिल्ली पुलिस के जुल्म के खिलाफ एक हों |*
Awareness drive in kichripur Manga Bazar 
Awareness drive in Kalyanpuri Mangal Bazar 
23-2-2023 ko MCD office me vendors ki problems ko lekar MCD Deputy Commissioner aur MCD Assistant Commissioner ke saath meeting hui. Shahdara South zone ke 1,2,3 TVC members is meeting me shamil huye,sabhi TVC members ka dhanyawad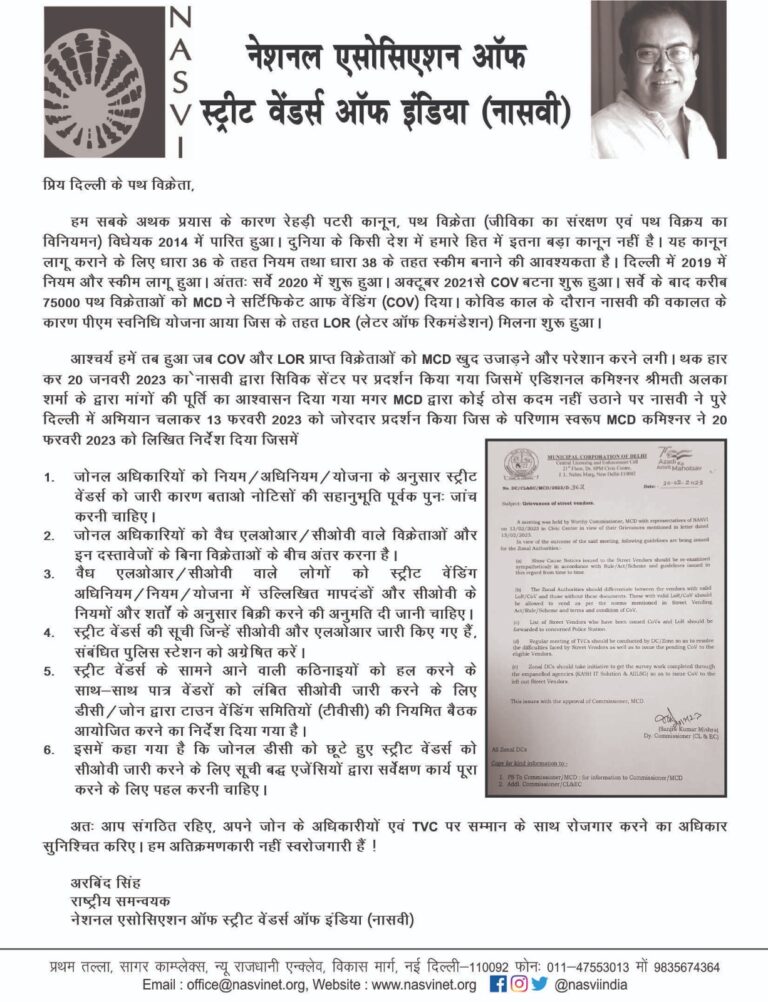 फुटपाथ दुकानदार संघ की कृषि फॉर्म सब्जी मंडी में किया गया बैठक, कई मुद्दों पर हुई चर्चा
The Commissioner,
posted a circular safeguarding the vending rights of street vendors having valid CoV and LoR; today when
questioned the repeated eviction, our staff got dragged and humiliated by the
Great Victory of  Street Vendor of Delhi
The Hon'ble High Court allowed the Write Petition and passed an order in favor NASVI, holding that the Petitioner, Satyavati Devi will have the right to carry on her business of street vendor in the allotted location without interference and harassment from any authority, specifically the Police.
Meeting with Market Leaders at  Gandhi Peace Foundation
Planning meeting with street vendors for people action against brutalities of Delhi Police and Negligence of NDMC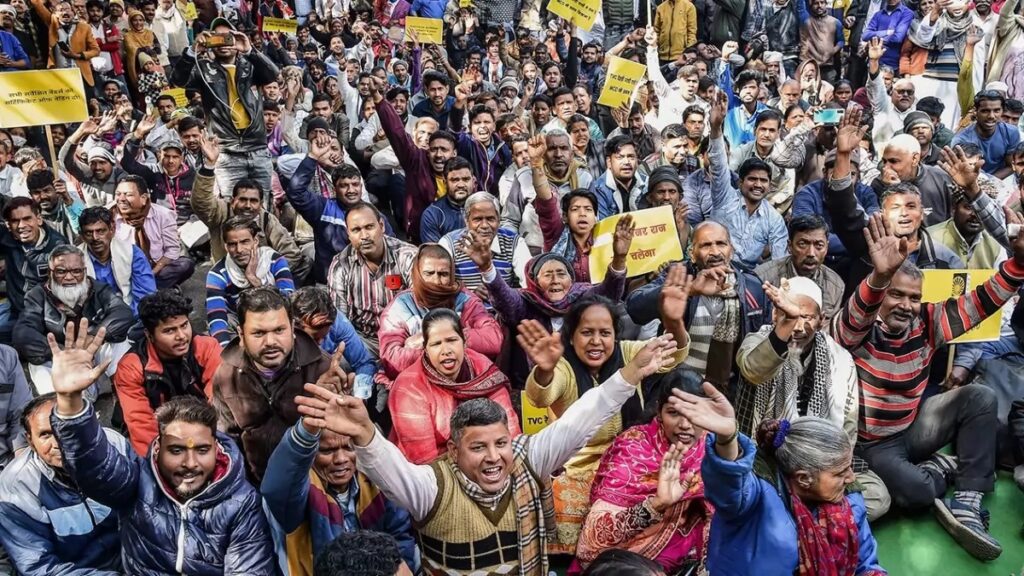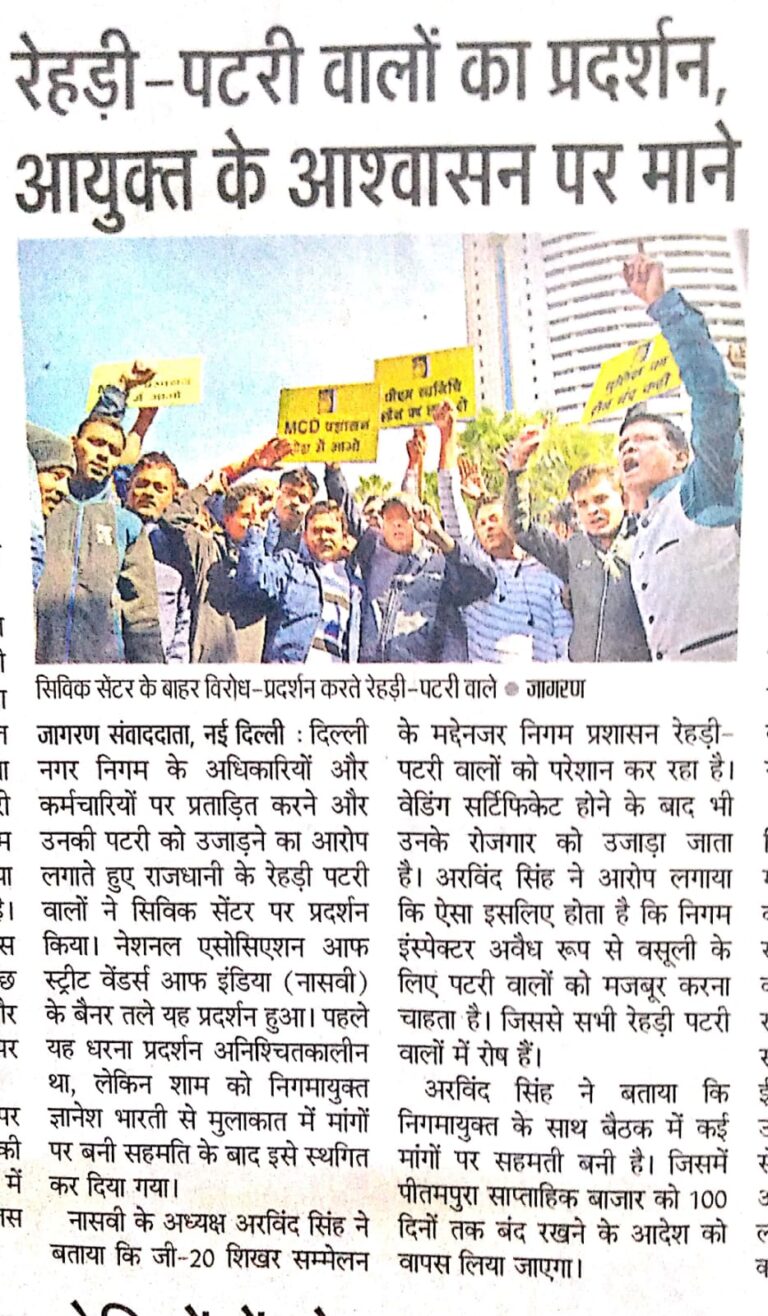 https://www.theweek.in/wire-updates/national/2023/02/13/des11-dl-mcd-vendors-protest.html
Street vendors stage protest against MCD for 'anti-encroachment' drive
PTI 
Updated: February 13, 2023 14:30 IST
New Delhi, Feb 13 (PTI) Hundreds of street vendors from across Delhi staged a protest outside the MCD office against the "astronomical increase in unlawful evictions" of their businesses.
    The vendors alleged that anti-encroachment drives by the Municipal Corporation of Delhi (MCD) have surged ahead of the G20 Summit, scheduled for later this year.
    "We are not being allowed to run our businesses. Even those who have proper papers are being removed and no alternative (site) is being provided to us," said Mohammed Imran Khan, a street vendor.
    The vendors raised slogans against MCD and demanded that they should be provided with dedicated, alternative spots to run their businesses.
    "They called us encroachers but we are not. How can they be so cruel to us? Nobody is listening to us," said Santosh, another street vendor.
    The vendors alleged that they have not been able to run their businesses since last year due to the MCD's atrocities.
    "There are around five lakh street vendors in Delhi and all of them have faced losses due to Covid. Now, when things have turned better, the MCD is removing us," Santosh added.
    There was a heavy police deployment outside the MCD office to maintain law and order. MCD officials did not respond to calls and texts from PTI for a response.
रेहड़ी पटरी वालों ने अधिकारों के लिए सिविक सेंटर पर डाला डेरा, बोले-उजाड़ो मत
https://zeenews.india.com/hindi/india/delhi-ncr-haryana/delhi-ncr/video/delhi-street-veders-protest-dera-dalo-ghera-dalo-outside-civic-center-g20-summit-appeal-dont-destroy-vchr/1569827
एक और केंद्र सरकार ने रेहड़ी पटरी वालों को आत्मनिर्भर बनाने के लिए पीएम स्वनिधि योजना लेकर आई है, वहीं दूसरी ओर स्ट्रीट वेंडर एक्ट पारित होने के 8 साल बाद भी उनके जीवन और रोजगार सुरक्षा को लेकर कोई खास बदलाव नहीं आया है. G20 शिखर सम्मलेन के लिए सौंदर्यीकरण के लिए स्ट्रीट वेंडर को कारण बताओ नोटिस थमाए जा रहे हैं. वेंडिंग सर्टीफिकेट होने के बावजूद उन्हें बेदखल किया जा रहा है. ये आरोप स्ट्रीट वेंडर ने एमसीडी पर लगाए हैं. आज रेहड़ी पटरी वाले अपने अधिकारों की रक्षा के लिए सड़कों पर उतर आए. सैकड़ों स्ट्रीट वेंडर एमसीडी ऑफिस के बाहर एकत्र हो गए. सिविक सेंटर पर डेरा डालने के बाद रेहड़ी पटरी वालों ने नरेबाजी की. उनका कहना है कि G20 सम्मेलन के बहाने एमसीडी दुकानों को जबरन तोड़ने और उन्हें बेदखल कर रही है. अधिकरियों पर मनमानी का आरोप लगाते हुए स्ट्रीट वेंडर का कहना है कि पीएम स्वनिधि योजना के लाभार्थियों को भी जबरन बेदखल किया जा रहा है. उन्होंने रेहड़ी पटरी वालों को न उजाड़ने की अपील की. साथ ही स्ट्रीट वेंडर का सर्वे करने और वेंडिंग सर्टिफिकेट जरी करने की मांग की.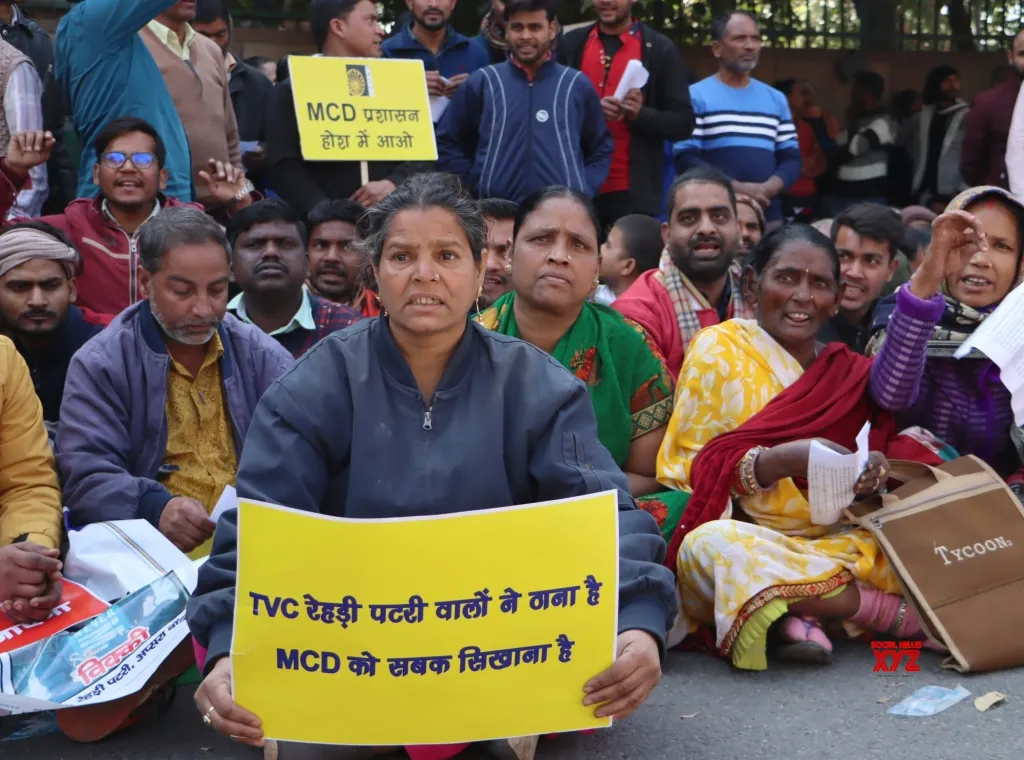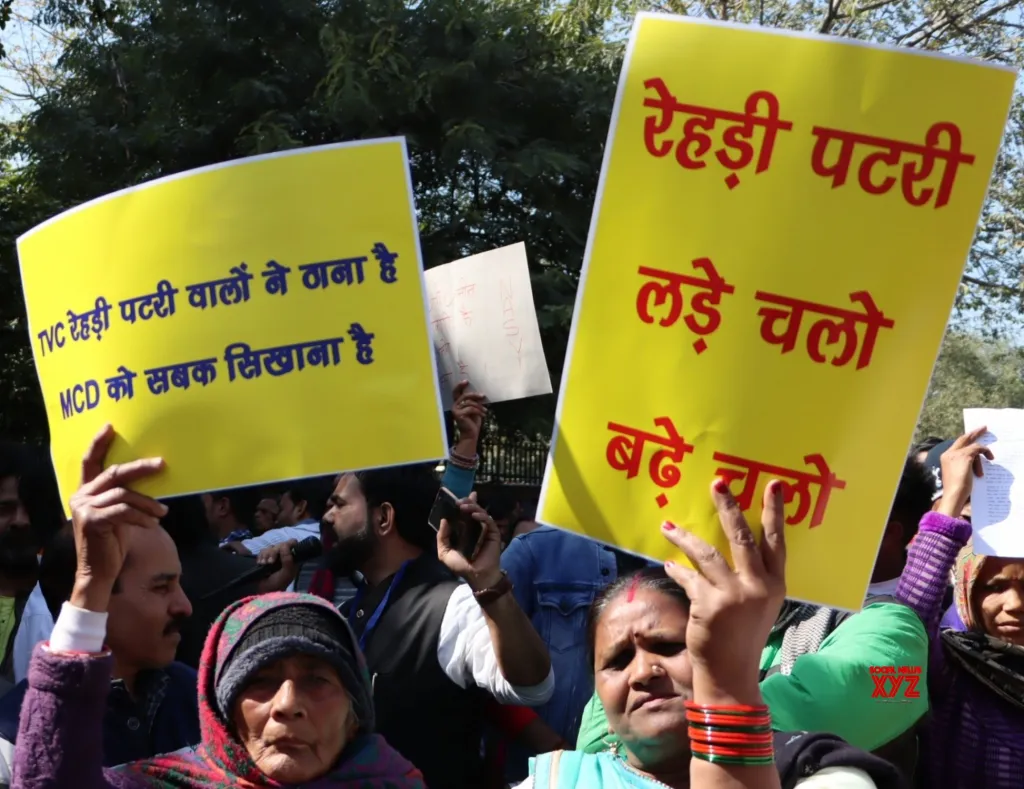 J.J Colony Krishi Kunj Market
Arbind Singh और असंगठित मज़दूरों का 'निदान' | Kya Baat Hai | Kumar Raajesh: ABP Ganga
Learn more: 
National Action Day on 20th January 2023  #Vending with Dignity
Vendors officials meet Urban Livelihood Minister on 20th January Streer Vendor Day: Guwahati 
Street Vendor Day Celebration: Andhra Pardesh
NASVI delegation's meeting with the Honorable "Minister of Housing & Urban Affairs" to discuss National Street Food Festival & other critical issue to the implementation of Street Vendor Act 2014