Girdhari Lal, 53 year Old street food vendor started his carrier as small property dealer but 20 years ago there came a twist in his carrier. He met Mr Hazi Aaftab of Nazeer, the famous non veg food chain in dramatic way, Mr Haji had left his valet full of important documents and cash. Girdhari lal found that. Girdhari took the valet and opened it to find out its owner and he went to return back . Mr.Hazi was so touched by his honesty that he offered him to work with him. Girdhari preferred to be self employed and agreed to sale Mutton seekh kabab and chicken seekh Kabab of Nazeer by frying at his stall. With that he slowly started experimenting his own culinary skill and was successful in doing so. He puts his stall at sector 3 Vaishali near Metro Mall. He has a regular customer, there are hundreds of customer who not only come to eat but get it packed. His delicacies include chicken korma,tangri kabab, Afgani Tikka,Chicken lolly pop and fish Tikka.
He lives in Shahadra where our Thrift and credit cooperative SANCHAY team member came in contact with him to assist him financially. He was sent for NASVI's SKILL CERTIFICATION PROGRAM to Lajpat Nagar SIHM, with his extraordinary culinary skill chef of hotel Taj who had come to assess them for certification first gave him grade A, as he forgot to taste his lollypop after tasting that he tore off the certificate and gave him a new one with grade A +.
Impressed by his skill, principal of SIHM,Mr.Ravi Prakash invited him to put his stall on 27th September on occasion of World tourism Day, he has been invited by Mr.Ravi Prakash to serve on the occasion of his daughter's engagement ceremony.Hope he will satisfy the peerless taste buds of Delhi buddies.
========================================================================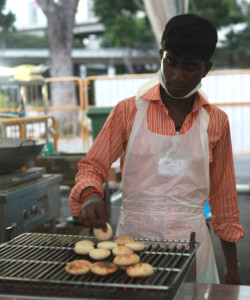 This guy from Bihar State show off a healthy and affordable traditional approach to their freshly prepared menu, with everything served to your taste and temperature…Meet  our culinary entrepreneurs .we all agree that the taste which they serve is peerless ,its just because their every bit of cooking is done with heart not just art. Vijay young enthusiastic street food vendor from Patna, Bihar0 .He puts his thela at Biscoman Bhavan,Gandhi maidan. Garlic soaked mutton with ghee dipped litti can make you crazy. His stall in Singapore won the best critic award. He  completed successfully Food safety handling training with good grades in one of the most prestigious institute in Singapore..
===============================================================================
Chicken 65 Master …. Akbar Chacha…Chicken 65 Master -Humble street food vendor from Dhadwad, Karnataka has proved his extraordinary culinary art not only in Street food Festivals organised by NASVI in Delhi but also in Singapore. A long queue in front of his stall in Singapore for his mind blowing chicken 65 was a proud moment not only for NASVI but also for all Indians. On 3rd 2013 December his superb culinary art won again a reward from CII. FSSAI chairman MR. Chandramauli presented him award certificate and cheque. A must taste Item…Come taste a bit of the real Karnataka in the heart of Delhi.